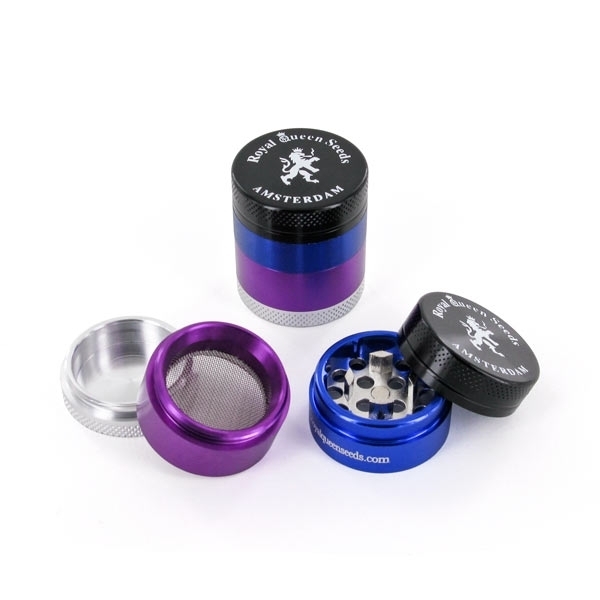 Osoby doświadczone w paleniu zioła wiedzą, jaką pożyteczną rzeczą jest czteroczęściowy młynek z sitkiem. Zamiast marnować drobne trichomy, które odpadają z rośliny podczas mielenia, można zebrać je na samym dnie do późniejszego użycia.
Ten niewielki, markowy młynek świetnie nadaje się dla osób w drodze. Z łatwością zmieści się w kieszeni albo w pudełku. I świetnie wygląda! Segmenty w kolorach srebrnym, czarnym, fioletowym i niebieskim przywodzą na myśl królewską władzę, a nasze logo na wieczku utwierdza w przeświadczeniu, że jest to rekwizyt dla królów i królowych. Metaliczne barwy powstały dzięki procesowi zwanemu anodyzowaniem. To nie farba, więc nie będzie odpryskiwać ani nie zanieczyści towaru, jak farba na akcesoriach do marihuany innych sprzedawców.
Jak działa czteroczęściowy młynek? Materiał roślinny jest mielony w górnej części, kiedy przekręcamy wieczko. Zmielony materiał spada przez otwory w części przeznaczonej do kruszenia na metalowy ekran w znajdujący się w sekcji przesiewania. Niewielkie lecz silnie działające trichomy spadają przez sito na sam spód.
Do codziennego użytku wystarczy odkręcić część kruszącą, wyjąć zmielony materiał i umieścić w ulubionej fajce lub waporyzatorze. Po pewnym czasie regularnego korzystania zajrzyj do dolnej komory, a znajdziesz tam proszek powstały z drobinek.
Miłośnicy marihuany wiedzą, że materiał ten ma potężną moc. Pewnie słyszałeś, że kiedy jest jeszcze na roślinie, mówi się o kryształkach, a kiedy gromadzi się w takim młynku jak ten, nazywa się kif. W podobny sposób wytwarza się tradycyjny haszysz.
Jeżeli nie korzystasz z czteroczęściowego młynka, ten silnie działający materiał,po prostu spadnie na podłogę albo utknie gdzieś wewnątrz urządzenia. Trzeba wtedy dokładnie czyścić młynek, gdyż może się zaciąć, kiedy będziesz próbował zmielić towar.
Aby zużyć zebrane drobinki, można wysypać je na zmielony materiał albo zachować na później, aż uzbiera się taka ilość, którą można ubić i wypalić.
Nie marnuj marihuany. Kif, który odpadł, jest często najlepszym składnikiem i nie wolno go wyrzucać. Już dziś zamów ten wygodny młynek, a wkrótce zakosztujesz fantastycznej uczty.



By alessio C. on 20/Jun/2016 :

Title : comprare
Comment : Come si fa a comprare?

By alexis M. on 08/Jan/2015 :

Title :
Comment : tres bon produit

By Andrei L. :

The customer has rated the product but has not posted a review

By liam S. on 18/Mar/2014 :

Title : not to bad
Comment : a little to small for my Hands only can grind a small bit a time and magent keeps geting cloged up kida a pain but works lovey and u dont lose THC :) ( why 3 star ) wish it was bigger for what u pay )

By Ignas L. on 28/Jan/2014 :

Title : A great grinder
Comment : This grinder is tiny (like 2cm in diameter) but it is very durable and the 2nd level container (to which you grind your stuff) is exact size for 1 spliff. Grind it full, use on a spliff and it should be just the perfect amount for 2-3 people.

By Sher J. :

The customer has rated the product but has not posted a review

By Tommaso D. on 15/Nov/2013 :

Title : Grinder
Comment : Piccolo e discreto, il grinder perfetto per tutte le occasioni!

By Alex O. on 20/Jun/2013 :

Title : small but useful
Comment : i carry my grinder always with me because its small and it fits into my pocket

By Isabel M. on 03/Apr/2013 :

Title : great lil grinder
Comment : Used it several times scince I got it and still love it. Yap, it's small but it works very good and fit in almost each pocket... Thx for this great tool

By Bojan L. on 21/Feb/2013 :

Title : Grinder
Comment : Very interesting device. :)

By mark M. on 07/Feb/2013 :

Title : grinder
Comment : its a bit small but does wot its made for easy to carry about and not to bulky thanks royal queen seeds

By dries N. :

The customer has rated the product but has not posted a review

By Alaerts C. :

The customer has rated the product but has not posted a review

By Geoffrey M. on 03/Jan/2013 :

Title : Grinder sympa !!!
Comment : Bonjour, Je trouve ce grinder sympathique, petit bémol quand même sur le diamètre. La taille n'est pas indiqué dans le descriptif et je tenais donc à préciser au futur acheteur que ce grinder mesure 3cm de diamètre. Merci royalqueenseeds.




You can't post a review because you are not logged as a customer

Log in / sign up
We do not ship this product to the following countries:
Germany, Canada, China, Finland, Japan, Luxemburg, United Kingdom, United States, HongKong, Australia, Singapore, Ireland, New Zealand, South Korea, Israel, South Africa, Nigeria, Ivory Coast, Togo, Bolivia, Mauritius, Romania, Slovakia, Algeria, American Samoa, Andorra, Angola, Anguilla, Antigua and Barbuda, Argentina, Armenia, Aruba, Azerbaijan, Bahamas, Bahrain, Bangladesh, Barbados, Belarus, Belize, Benin, Bermuda, Bhutan, Botswana, Brazil, Brunei, Burkina Faso, Burma (Myanmar), Burundi, Cambodia, Cameroon, Cape Verde, Central African Republic, Chad, Chile, Colombia, Comoros, Congo, Dem. Republic, Congo, Republic, Costa Rica, Croatia, Cuba, Djibouti, Dominica, Dominican Republic, East Timor, Ecuador, Egypt, El Salvador, Equatorial Guinea, Eritrea, Estonia, Ethiopia, Falkland Islands, Faroe Islands, Fiji, Gabon, Gambia, Georgia, Ghana, Grenada, Greenland, Gibraltar, Guadeloupe, Guam, Guatemala, Guernsey, Guinea, Guinea-Bissau, Guyana, Haiti, Heard Island and McDonald Islands, Vatican City State, Honduras, India, Indonesia, Iran, Iraq, Man Island, Jamaica, Jersey, Jordan, Kazakhstan, Kenya, Kiribati, Korea, Dem. Republic of, Kuwait, Kyrgyzstan, Laos, Lebanon, Lesotho, Liberia, Libya, Liechtenstein, Lithuania, Macau, Macedonia, Madagascar, Malawi, Malaysia, Maldives, Mali, Malta, Marshall Islands, Martinique, Mauritania, Hungary, Mayotte, Mexico, Micronesia, Moldova, Monaco, Mongolia, Montenegro, Montserrat, Morocco, Mozambique, Namibia, Nauru, Nepal, Netherlands Antilles, New Caledonia, Nicaragua, Niger, Niue, Norfolk Island, Northern Mariana Islands, Oman, Pakistan, Palau, Palestinian Territories, Panama, Papua New Guinea, Paraguay, Peru, Philippines, Pitcairn, Puerto Rico, Qatar, Reunion Island, Russian Federation, Rwanda, Saint Barthelemy, Saint Kitts and Nevis, Saint Lucia, Saint Martin, Saint Pierre and Miquelon, Saint Vincent and the Grenadines, Samoa, San Marino, São Tomé and Príncipe, Saudi Arabia, Senegal, Serbia, Seychelles, Sierra Leone, Slovenia, Solomon Islands, Somalia, South Georgia and the South Sandwich Islands, Sri Lanka, Sudan, Suriname, Svalbard and Jan Mayen, Swaziland, Syria, Taiwan, Tajikistan, Tanzania, Thailand, Tokelau, Tonga, Trinidad and Tobago, Tunisia, Turkmenistan, Turks and Caicos Islands, Tuvalu, Uganda, Ukraine, United Arab Emirates, Uruguay, Uzbekistan, Vanuatu, Venezuela, Vietnam, Virgin Islands (British), Virgin Islands (U.S.), Wallis and Futuna, Western Sahara, Yemen, Zambia, Zimbabwe, Afghanistan, Antarctica, Bosnia and Herzegovina, Bouvet Island, British Indian Ocean Territory, Cayman Islands, Christmas Island, Cocos (Keeling) Islands, Cook Islands, French Guiana, French Polynesia, French Southern Territories, Åland Islands
KLIENCI KTÓRZY KUPILI TEN PRODUKT, KUPILI RÓWNIEŻ
Disclaimer
All cannabis seeds sold at Royal Queen Seeds are solely for personal use. We do not supply seeds to large scale or commercial growers. We reserve the right to refuse sale if we suspect this term is being breached.